World Heart Day celebrated in the heart of Belfast
30th September 2019
Workers from across Belfast's Linen Quarter didn't skip a beat to sign up to free health-checks to mark World Heart Day this week.   
More than 30 people from across one of the city's most pumping districts availed of the 1-2-1 checks that measured blood pressure, BMI and cholesterol. 
Chris McCracken, MD at Linen Quarter BID: "There's nothing more important to a city than the people who make it. That's why in partnership with British Heart Foundation NI we've offered staff from hundreds of businesses in the Linen Quarter the opportunity to receive a free health-check. 
The Health-checks give people the opportunity to reduce risks to their health, and find out more about their overall health, enabling them to make some better choices." 
Healthy District 
With such high demand for checks on the day, the Linen Quarter BID will be ensuring more are made available in the new year, to those who missed out.
We will also be introducing our Healthy District action plan for 2020, which will include more checks and a wide range of health initiatives going forward.
If you didn't get the chance to go along to a check-up, follow @LinenQuarterBID on Twitter and keep an eye out for more dates scheduled in the new year.
Pictured: Orla Clark from British Heart Foundation and Chris McCracken from Linen Quarter BID.
Read More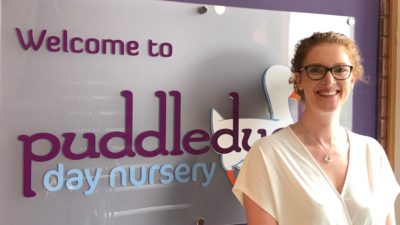 Managing Change As A Parent Returning To Belfast Office Life
article / Partner Stories
17th October 2023