Linen Quarter is the place to be this summer, with a range of events and nights out for all audiences, complete with a diverse and unrivalled hospitality offering. Here's some of our highlights, coming up in July and August.
Belfast Whiskey Week (Friday 21

st

 

– Saturday 29

th

 

July)

 

 
Probably the World's Largest Whiskey Festival, Belfast Whiskey Week consists of almost 100 events across the City which include live music, comedy, food, tours, cocktails and distillery days and of course the opportunity to sample hundreds of whiskies!  
Two of the landmark events in the programme are happening here on the doorstep of the Linen Quarter. The Whiskey Expo will take place at the Europa Hotel on Friday 28th of July and is an opportunity to meet ambassadors, distillers, and owners of over 30 different brands and sample their wares.   
The Whiskey Week Cocktail Takeover, will take place at TradeMarket on Thursday 27th of July from 5.30pm. For £30 you can enjoy 5 unique Whiskey cocktails, with live music and cocktail demonstrations.   
For more information and the full program, visit;  https://www.belfastwhiskeyweek.com/  
The

Limelight,

Ulster Hall

&

Grand Opera House
The Linen Quarter is home to three of Belfast's most iconic venues in The Limelight, Ulster Hall and Grand Opera House. Each have a great line up of events over July and August for various audiences. Some highlights include Bingo Loco Jukebox Jam (July 8th), with it's lip sync battles and dance offs making for an entertaining evening even if you don't win any prizes. There's also Demon Dentist (July 27-29th), adapted from David Walliams Best-Selling Childrens Novel, Ulster Youth Orchestra's 30th Anniversary Concert and productions of Rocky Horror Picture Show (Aug 07th-12th ) and Dirty Dancing (Aug 22nd-Sept 02nd).  
You can find the full summer events program for each venue and purchase tickets by visiting; 
https://www.limelightbelfast.com/ 
https://www.ulsterhall.co.uk/what-s-on/ 
https://www.goh.co.uk/whats-on/ 
Féile Trad Trail (Thurs August 3

rd

& Sat 12

th

)
Ireland's largest Community Arts Festival will reach the Linen Quarter on August 3rd & 12th as part of one of it's most exciting events, the Féile Trad Trail. The Trail takes in venues across the city, where a host of musicians from across the island will play traditional music throughout each day. The trail finishes on both days at the Grand Central Hotel with music from Paul Burns, Sinead Quinn, Maria Rafferty and others. 
Check out the full trail route for August 3rd here, and for August 12th here.  
Flaxx

Boardwalk (All Summer Long)

 
The FLAXX social Space was completed in April 2022 and is one of the only and best Beer Gardens in the city of Belfast. The large-scale pedestrianised space includes a fully licensed bar and street food offering – dirty fortnight – where the menu changes every two weeks. At the time of writing they are currently serving delicious Spice Bags, if only Lizzo had of known! 
You can also bring your own picnic and enjoy the occasional entertainment which takes place on the purpose build stage or the games area, complete with Cornhole and Table Football.  
Visit Instagram for the latest events taking place at Flaxx. 
Inter Company Pétanque Tournament

 
Have you tried your hand at our Pétanque Piste on Blackstaff Square yet? It's a bowls-type game which is very easy to pick up and play as a couple or with up to 6 players.
Pétanque boules are available to collect from Actons & Sons Restaurant adjacent to the court from 12 noon – 9pm, Tuesday – Saturday and you can find the game rules here.
Linen Quarter BID will be hosting an inter-company tournament in August where the top prize with be a £200 Observatory Experience at the Grand Central Hotel. Register at this link and we will provide you with a free Boules Set to practice with!
Bankmore Square
Have you visited the new and improved Bankmore Square yet? Linen Quarter BID recently re-developed the space, with support from Dept of Infrastructure and Dept for Communities.  
The newly revitalised square is complete with seating, a wildflower meadow and event space. We've put together a free 6-week event program to animate the space further, which will include free concerts, yoga, pickleball, a petting zoo and free ice-cream & pizza! 
Have a look at the full program below.  
And, if you have an idea to animate the square? Maybe you or your group want to utilise the space for a performance, exhibition or event? We are all ears! Just email stephen@linenquarter.org to discuss how we may be able to support you! 
Whatever event or activity it is that brings you to Belfast City Centre, it's only complete with good food. Linen Quarter has some of the finest dining and most exciting street food in Belfast! You can browse the quarters full hospitality offering here. 
Read More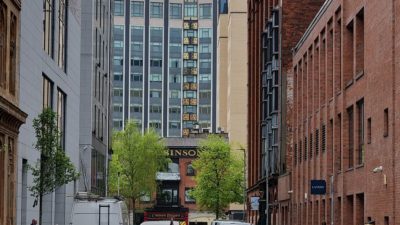 LQ BID submits proposals for reconfiguration of local road network
article / Featured News
12th October 2023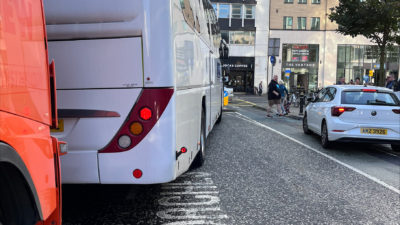 LQ BID writes to the Department for Infrastructure in relation to Glengall Street congestion issues
article / Featured News
3rd October 2023