Looking for something to do during the month of September? Find out what's on in and around the Linen Quarter area right here! From theatre shows to family dinners – we have got you covered! Check out the listings below and be sure to make a booking!
SHOWS
10CC |Ulster Hall
Among the most inventive and influential bands in the history of popular music, 10CC are one of the few cats to have achieved commercial critical and creative success in equal measure.
Date: 1st September
Tickets: £45
Shane Todd| Grand Opera House
Fresh from two shows in the SSE Arena, local comedy hero Shane Todd is hitting the iconic Grand Opera House with his brand new show Grand. Grand is the eighth solo show from the acclaimed stand up. Shane Todd has played comedy clubs all over the world and also hosts the massively popular Tea With Me podcast.
Date: 02/03 September
Tickets: £20.50-30.00
Lime Cordiale| Limelight 2
Lime Cordiale are an Australian pop rock group from Sydney, New South Wales, formed in 2009. The band consists of brothers Oli and Louis Leimbach, with additional members James Jennings, Felix Bornholt and Nicholas Polovineo. They released their debut studio album Permanent Vacation in 2017.
Date: 28th September
Tickets: £20.00
EVENTS
Belfast Music Tour| Ulster Hall
The Belfast Music Tour is a journey across the city that reveals the music, the artists and the landscape that have brought character to the city. This is definitely a tour that many of your guests will want to know about! The two-hour bus trip starts at the beautifully restored Ulster Hall, home to the Ulster Orchestra and also host to Led Zepplin in 1971 for the world premiere of 'Stairway to Heaven'.
Date & Time:  27tth September, 2pm
Tickets: £17
European Heritage Open Day| Grand Opera House
As part of the 2022 European Heritage Open Days event, the Grand Opera House will hold a number of free informal talks about the Theatre's architecture, history and restoration on Sunday 11th September. Hear about the world-famous stars who have performed here from Laurence Oliver to Darcey Bussell and learn the secrets of the auditorium's beautiful oriental design as well as the near disasters that this stunning building has faced.
Date & Time:  11th September, 10am, 12pm & 2pm
Tickets: Free
Games Night at FLAXX | Linen Quarter BID
If you work in the Linen Quarter & Gasworks join us at FLAXX- our colourful new outdoor deck at Brunswick Street- for free drinks, finger food and team games. Try out French Boules, ring toss or table football while catching up with colleagues.
Date: 8th September
Tickets: Free
 DRINK
Pug Ugly's| Boneyard
From showing all premier league games this season to Pug's comedy Club to live music in Boneyard and finally great pizzas, burgers and tacos. Pugs is a great spot for a drink and a bit of banter any day of the week.
Location: Bedford Street
Trademarket| Pop-up container market
Trademarket Belfast is a pop-up concept, taking place at the former Movie House Cinema site on the Dublin Road. Surrounded on the outside by numerous unique retail units and filled on the inside with food stalls and two beer gardens, Trademarket is ideal for al fresco summer drinks and delicious street food.
Location: Dublin Road
 EAT
Nora's Palace| Blackstaff Square
Fancy some premier Mediterranean cuisine? Nora's is a comfy spot for falafel, kebabs, salads & more Mediterranean fare from an open kitchen. With award winning food and consistently great deals, Nora's Palace must be experienced.
Panama | Private Party Space
Panama is LQ's newest business venture, a gorgeous city centre venue only open for private evening events & functions for 30+ guests.
Email info@panamabelfast.com for any enquiries.
Read More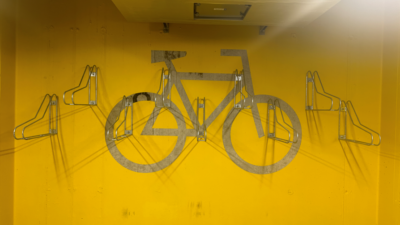 Ewart Building Receives Gold Award for Cycling, With Support From LQ BID
article / Campaigns
18th September 2023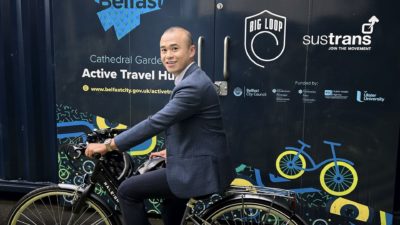 Pedalling Forward – 6 benefits of cycling you might not know about!
article / Campaigns
18th September 2023