Looking for something to do during the month of October? Find out what's on in and around the Linen Quarter area right here! From theatre shows to family dinners – we have got you covered! Check out the listings below and be sure to make a booking!
SHOWS
Northern Ballet Presents: The Little Mermaid |Grand Opera House
When a young mermaid is finally allowed her first glimpse of life beyond the ocean, she is enthralled by what she sees. Falling in love with a mortal Prince she leaves her magical underwater world behind, losing her voice and enduring immense pain to make the ultimate sacrifice for love.
From breath-taking underwater scenes to vibrant life on land, rediscover Hans Christian Andersen's original fairy tale performed by Northern Ballet's world-class dancers with Celtic-inspired music played live by Northern Ballet Sinfonia.
Date:12th-15th Oct
Price: £17.50-£46.00
Richard Hawley | Ulster Hall
English singer-songwriter, guitarist, and producer, Richard Hawley is coming to Belfast this Autumn for a spectacular solo performance at the Ulster Hall!
The Cathedral Quarter Arts Festival is delighted to finally present this rescheduled show – a truly iconic artist in one of the city's most historic venues. Pre-COVID, 2020 had been a landmark year for Richard with his ninth studio album, Further, slamming into the UK album charts at No.3.
Date: 10th October
Price: £25
The Amazons + Roe | Limelight 2
The Amazons are a British rock band from Reading, Berkshire, formed in 2014. The band's debut album rose to number 8 on the UK Albums Chart. They have also been named a band to listen to in 2017 by NME, The Independent and BBC Radio 1
Date: 6th October
Price: £15
Joseph and the Amazing Technicolor Dreamcoat |Grand Opera House
The multi-award-winning show has been performed in over 80 countries worldwide and has become one of the world's most beloved family musicals.
With stars from The London Palladium Alexandra Burke (Strictly Come Dancing, The Bodyguard, Sister Act) and Jac Yarrow, the show features songs that have gone on to become pop and musical theatre classics, including Any Dream Will Do, Close Every Door To Me, There's One More Angel In Heaven and Go, Go, Go Joseph.
Date: 4th Oct-9th Oct
Tickets: £22.50-60.50
Over The Top Wrestling "Eighth Year Anniversary" Belfast| Europa Hotel
Dates:  30th Oct
Time: 16:00-19:00
Price: £24.04
Milky Chance plus Guests| Ulster Hall
Balancing existential dread and sentimental idealism in equal measure, Milky Chance's intoxicating new single, "Synchronize," feels tailor-made for the times, wrestling as it does with hope and despair, fear and desire, commitment and escape.
Dates: 27 October
Tickets: £27.00-30.00
EVENTS
Belfast Kilo Sale Pop Up 2nd October
Sun, Oct 2, 10:00| Clayton Hotel Belfast
Belfast! We're back for another Kilo Sale! Be ready to shop over 5 tonnes of vintage and preloved garms and pay by weight for only £25 per Kilo!
Dates:  2nd October
Time: 10:00
Tickets: free
 Belfast Careers Fair| Clayton Hotel
The Belfast Careers Fair takes place on Friday 28th October, at Clayton Hotel from 10am-2pm. You can meet local and national employers face-to-face, and apply directly for hundreds of vacancies. The Belfast Careers Fair is open to anyone and everyone – there is always such a wide variety of employers exhibiting, meaning that there are opportunities for individuals of all ages and all levels of experience
Dates:  28th October
Time: 10:00
Price: free
Founders Night Belfast| Ormeau Baths
Gerard Donnelly hosts Founders Night Belfast which  aims to bring together the local startup community on a monthly basis.
Dates:  6th October
Time: 18:30
Price: free
Linen Quarter walking tour | Belfast International Arts Festival
'The blended thread', a walk through 250 years of local history. This walking tour of the city centre will have you looking at the buildings in a new light, and you will be literally touching the past. Your guide will bring the world of scutchers, doffers and linen merchants back to life for you in this quirky and entertaining tour. Outdoors so recommended to dress weather appropriately.
Belfast City Hall starting point
Dates:  22nd October and 3rd November
Time: 11:00 and 14.00
Price: £9
Free Bodhran Lessons | The Points
What better way to spend an evening than a free bodhran lesson with teacher Tomai Taylor at The Points. Every Tuesday at 7.30pm.
 EAT & DRINK
Thursday Club| The Perch 
Located in Belfast's Linen Quarter, The Perch has just launched a Thursday Club offering 2 for 1 cocktails and a pizza and a cocktail for only £12! All day every Thursday
Read More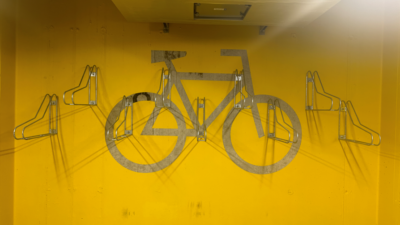 Ewart Building Receives Gold Award for Cycling, With Support From LQ BID
article / Campaigns
18th September 2023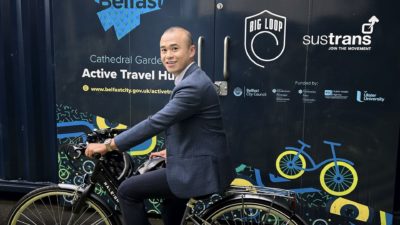 Pedalling Forward – 6 benefits of cycling you might not know about!
article / Campaigns
18th September 2023