What's On | December
22nd November 2019
EVENTS IN DECEMBER
Beauty and The Beast | Grand Opera House 30th Nov – 12 Jan 2020
With a huge cast of 30 and a spectacular set, Beauty and the Beast is the biggest show in NI bringing the beautiful story of Belle and the hideous beast! Christmas would not be Christmas without panto, so secure your seats for this beauty of a family show. Tickets starting at £21.75.
Book now @ https://www.goh.co.uk/whats-on/beauty-and-the-beast/
Midland |Ulster Hall 2nd December
Country trio Midland are bringing their show to the Ulster Hall this December! This Texas trio of friends are the embodiment of Seventies Californian country- now's your chance to see them live! Tickets starting from £27.50
https://www.ulsterhall.co.uk/what-s-on/midland/
Christmas Gifts |Ulster Hall 5th December
The Ulster Orchestra Lunchtime Concert series is beginning with Christmas Gifts- and two very special gifts to kick off the holiday season. Enjoy a bite-sized sample of the orchestra in its full festive glory. Tickets £7.50
https://www.ulsterhall.co.uk/what-s-on/lunchtime-concerts/
A Night of Christmas Music & Song at The Ulster Hall | 7th December
The award-winning Belfast Operatic Company return to the Ulster Hall with 'A Night of Christmas Music and Song.
A highlight in the festive season, this year Belfast Operatic Company is delighted to welcome one of Northern Ireland's finest bands, 1st Old Boys to the Ulster Hall as they bring a range of old and new Christmas music. Tickets priced at £20-£22.
https://www.ulsterhall.co.uk/what-s-on/a-night-of-christmas-music/
Cinema at Fratelli's |10th and 18th December
Join Fratelli's this holiday season for two of the best Christmas movies- Elf and The Grinch. For a main course, glass of wine and dessert buffet for £25 pp- treat your elf!
https://www.fratellibelfast.com/events.html
Paddy & Nigel – The Nige before Christmas | Limelight 13th & 14th December
Join Paddy Raff at Nigel's pre-Christmas pre-drinks soirée for a night of festive stand-up comedy and trademark parody music with a seasonal twist featuring Nigel's Bravo Tango Niner wingman Jarlath. You'll be laughing all the way with Paddy & Nigel at 'The Nige Before Christmas.'
Tickets £20 – Book @
https://www.ticketmaster.ie/venueartist/459772/5293836?fbclid=IwAR20eMY0zW45Cel90NqrW_juzgA4VN7Ufb0oQujD5rS1XNUIOHnWZsDrSME
The Chicago Blues Brothers |Ulster Hall 14th December
Celebrate this Christmas with a festive feast of Blues, Soul and Motown Classics performed in the show stopping style that only the Chicago Blues Brothers can deliver! Tickets starting from £15.
https://www.ulsterhall.co.uk/what-s-on/chicago-blues-brothers/
Santa Sunday at The Clayton | 15th December
Join The Clayton Hotel this Christmas for their Santa Sunday celebrations in the Olympic suite. Enjoy a full cooked buffet breakfast available from 9.30am followed by a viewing of the Elf movie.  Santa will also pay a visit on the day! Book now: Child: £9.95 Adult: £13.95
https://www.claytonhotelbelfast.com/christmas/
Elvis Tribute Show at The Europa Hotel | 27th – 29th December
"The King" Jim Brown and his band, Ireland's Premier Elvis Tribute Act, return to the Europa Hotel. Ticket price includes an American Buffet of Hamburgers, Hot Dogs and Nachos, served from 19:30 – 21:00.
https://www.hastingshotels.com/europa-belfast/
Epic 80's New Year's Eve Party Night |Park Inn Hotel 31st December
Say goodbye to 2019 and join the Park Inn for their 80s themed start of the new year party. Take on 2020, with a classic mix of 80s tunes provided by QRadio's DJ Ibe Sasay. Get the legwarmers ready! Tickets- £10. Contact: Christmas.belfast@parkinn.com
New Year's Eve in the Observatory |Roaring 20's Cocktail Party
Join The Grand Central Hotel for a panoramic New Year's Celebration. Reserve your table for the night, sip on the finest cocktail and drinks selection and take in the unique views of Belfast and beyond as you welcome in 2020. Welcome Cocktail, Bottle of Bollinger per couple with seasonal Tapas at 10pm. Live musical entertainment and Piper at Midnight. £90 per person. Book now @
Read More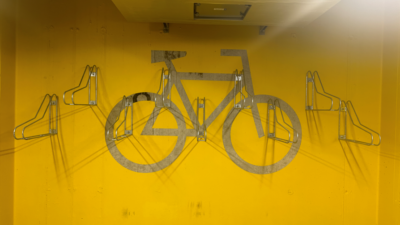 Ewart Building Receives Gold Award for Cycling, With Support From LQ BID
article / Campaigns
18th September 2023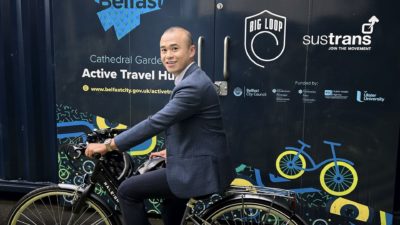 Pedalling Forward – 6 benefits of cycling you might not know about!
article / Campaigns
18th September 2023