Thomas Thompson Fountain Clean Up Goes Ahead
20th March 2020
LQ BID organised a Big Spring Clean for the Linen Quarter to mark the first day of Spring. Although we were unable to include volunteers due to the current health emergency, we still progressed the initiative using our dedicated LQ Clean Team, who conducting litter picking, gardening, graffiti removal and power-washing along Ormeau Avenue, Bedford St, Dublin Great, Great Victoria Street, Bankmore Square and Blackstaff Square.
The centrepiece of the initiative was the professional cleaning of the Thomas Thompson Fountain, using a team of specialist contractors led by Consarc design. The Fountain is a beautiful piece of heritage architecture, dating from 1885, which has been lying neglected and unloved for decades on a traffic island at the top of Ormeau Avenue. This beautiful Victorian-Gothic masterpiece tells the story of one of Belfast's greatest sons, Dr Thomas Thompson, who saved the lives of thousands of people through his clean water campaigns, and gave solace to the sick through the opening of the Belfast Hospital for Incurables (thought to be a neglected heritage building on Great Victoria Street).
To highlight the importance of our built heritage, and to retell the story of an inspirational Belfast humanitarian, the Linen Quarter BID fully funded the clean-up of the Fountain which included application of cleansing agents to the stone, low powered washing of the four facades, and the removal of weeds, algae and undergrowth. At a later point LQ BID hope to work with the Department of Communities to explore a more in-depth restoration, and to see what more we can do to retell the story behind it.
A future community clean up, which will include local businesses and volunteers in the LQ area, will be rescheduled later in the year. Please keep an eye on our Newsletter for further details and how you can get involved.
Before clean of the Thomas Thompson Fountain took place:
After the clean of the Thomas Thompson Fountain took place:
Read More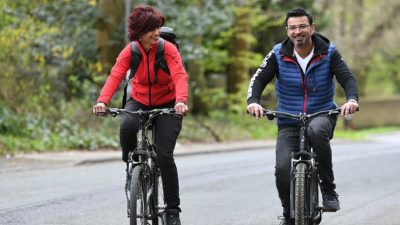 The BID publishes Cycling to Work video to mark start of Bike Week 2023
article / Featured News
5th June 2023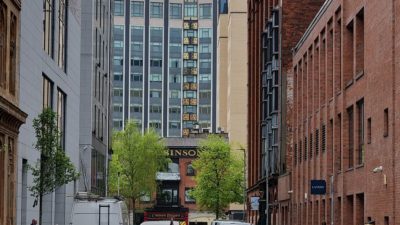 Consultation on commercial access strategy for the Blackstaff area is now open
article / Featured News
1st June 2023