ALL IS BRIGHT: 'REUNION' CHRISTMAS LIGHTING INSTALLED IN THE LINEN QUARTER
Featured News / 12th December 2022
A Christmas lighting animation, entitled REUNION, has been installed at Blackstaff Square in Belfast's Linen Quarter. REUNION celebrates the joy of coming together after a long period of separation. Six technicolour light arches intertwine to create an impressive circular arena for passers-by to engage with and explore. This sense of connection is further enhanced by the proximity of the installation to the Grand Central Train Station, which will transform the Linen Quarter into a major gateway to the rest of the island.
Funded by the Linen Quarter Business Improvement District (LQ BID), REUNION will contribute to the city's festive atmosphere and provides a focal meeting point at Blackstaff Square. The vibrant animation reflects the positive journey of transformation that Blackstaff Square is currently on and illuminates wider regeneration in the future, including proposals for a multi-million-pound public realm upgrade.
Nora Rashwan, Owner of Nora's Place, a Mediterranean restaurant on Blackstaff Square said: "The height of the pandemic was a tough time for the city's businesses, particularly those in hospitality, with many of us still in recovery. We welcome all the recent improvements made to this space and hope that they will continue to drive people to enjoy the area. REUNION is a lovely addition to the Square and certainly adds a bit more colour for Christmas."
Transforming this area of the city is high on LQ BID's agenda. Earlier this year it worked in partnership with Belfast City Council and the Department of Communities to deliver FLAXX – a 43-metre-long outdoor structure that has become a vibrant hub, complete with outdoor seating, and a performance area with a stage for small concerts. The BID have also installed tree wrap lighting, colourful new planters, and a Petanque court.
Chris McCracken, Managing Director at LQ BID said: "It's fantastic to see the REUNION lighting animation bring greater colour and vibrancy to the district. The installation encourages people to reconnect with each other and with our public spaces, bringing greater definition to Blackstaff Square and encouraging people to enjoy the city. We need to think imaginatively to restore economic vitality to Belfast and we're proud that REUNION demonstrates creative thinking to enhance the look and feel of the Linen Quarter around the Christmas Season."
REUNION will be in-situ at Blackstaff Square until early January. For more information on Linen Quarter visit linenquarter.org or @linenquarter on Instagram.
Read More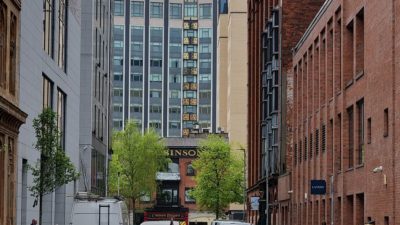 LQ BID submits proposals for reconfiguration of local road network
article / Featured News
12th October 2023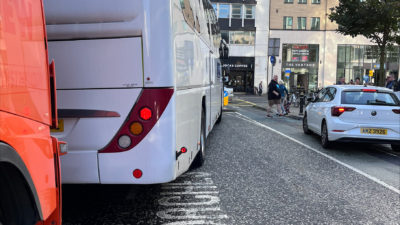 LQ BID writes to the Department for Infrastructure in relation to Glengall Street congestion issues
article / Featured News
3rd October 2023