RE[act] Festival 2021 | Review
Featured News / 24th November 2021
Linen Quarter BID's RE[act] Festival was a success for the district and the region as a whole. We would like to thank all those who attended the festival, the event coordinators, and our two principal funders Belfast City Council and the UK Government BEIS Green Region Zone support programme (through NILGA).
RE[act] featured 30 unique events between 2 – 14 November 2021. It was a completely new festival, that sought to inspire a more sustainable Belfast (and Northern Ireland). It took place at the same time as COP26, and was aligned with the global conference's daily themes, to help integrate Northern Ireland into the global conversation.
Re[act] featured live talks, public debates, workshops, international webinars, and place-based events. Bringing together lively debate and events about how we and the city can continue to be more sustainable around common themes of energy, public empowerment, nature, science & innovation, and active transport. The Festival was launched by Carol Lemmens from ARUP who spoke on reshaping cities and John Walsh at Belfast City Council responded, outlining the Border Vision for the city.
There were a number of business breakfasts covering topics such as eco-innovation, waste and city sustainability. Community sustainability art workshops were supported by Queen's University, and Belfast City Council facilitated fashion and waste awareness events on the Belfast Barge.  Festival attendees had the opportunity to learn about how to make community wealth building work for Belfast. Over 80 young people – between 13 to 18 years old – launched the Belfast Climate Commission's Climate Crisis Youth Survey in front of senior politicians.
We had a packed audience to hear about the difference Edinburgh, Leeds and Belfast Climate Commissions are making to their cities and promoting local jobs.
The RICS global webinar on circular environment attracted over 120 attendees from 13 difference countries, and the LG BID launched its green building report on Bedford House to illustrate the practical and commercial benefits of moving towards a sustainable built environment.
There were a number of fun family nature walks hosted by the RSPB and a lively sustainable regeneration café conversation event host by the BID along with a successful active travel event supported by Translink.
We will now – with partners – reflect on the festival, and how we will build upon it for the future.  Thank you again – to everyone who attended and supported the RE[act] festival.
Read More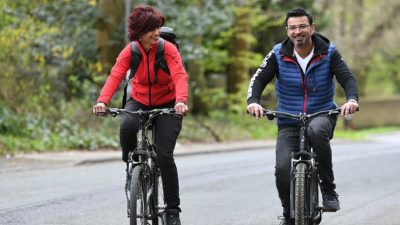 The BID publishes Cycling to Work video to mark start of Bike Week 2023
article / Featured News
5th June 2023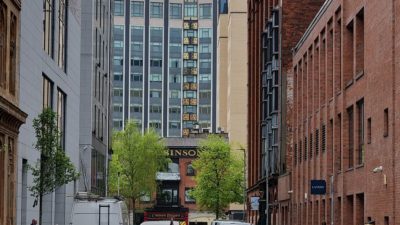 Consultation on commercial access strategy for the Blackstaff area is now open
article / Featured News
1st June 2023