On Saturday 28th May 2022 the Orange Order are holding a large-scale parade in Belfast to mark the Northern Ireland Centenary.  The parade will start at Stormont Estate and make its way to Belfast City Hall.  Organisers expect there to be some 20,000 participants and up to 60,000 spectators along the route.  The parade will attract people from across Northern Ireland and beyond, with some 200 buses expected to arrive at Stormont from 9am on the morning of the event, and spectators expected to line the entire 5 mile route.  The parade is set to begin leaving Stormont at around 11am and the first bands and lodges are expected to reach the City Hall at around 1pm.
The route is as follows:  Upper Newtownards Road – Newtownards Road – Bridge End – Ann Street – Victoria Street – High Street – Castle Place – Donegall Place – with dispersal to happen at City Hall.  Some of the event participants will meet their buses at Great Victoria Street/Hope Street whilst other more local bands and lodges may parade back through the city.  It is expected that by 6pm all participants of the main event will have made the journey from Stormont to City Hall.
PSNI aim to keep traffic moving as long as possible on the morning of the event, however, this will be difficult and certainly from between 12 noon and 1pm roads mentioned above will be closed to all traffic.  Road closure times will depend on how quicky the first participants of the parade make their way from Stormont, and it is likely to be earlier than 12 noon if large crowds are gathered.
Translink will be operating bus services using alternative routes, however, they are advising customers to expect heavy delays. Train services will run as normal and indeed additional carriages will be provided to deal with high volumes of spectators coming in from across NI.  PSNI will be present along the route and in the City Centre to manage traffic and crowds.
The BID will work with various partners to ensure relevant updates are provided to members, particularly for hospitality business owners in the area.
Read More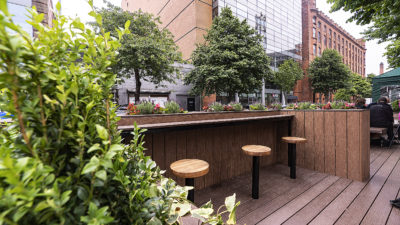 Linen Quarter BID's 2020-22 public realm programme satisfaction survey
article / Featured News
18th August 2022