Belfast's Linen Quarter welcomes the Blues
29th May 2019
The Belfast City Blues Festival is back for its 11th year, with more than 60 free live gigs set to take place across 20 venues from the 28th to 30th June, and the Linen Quarter will be home to several events.
LIVE MUSIC: 
Grand Central Hotel
Visit the Grand Cafe within the hotel for a blues filled afternoon across both Saturday and Sunday.
Saturday 3.30-5.30pm / Rab McCullough & The Rev Doc
Sunday 3.30 – 5.30pm / Lee Hedley & Co
https://www.grandcentralhotelbelfast.com/ 
Clayton Hotel
Head on down to the Clayton and see the Swing Brothers live in action – a duo you won't want to miss!
Saturday 8pm – late
https://www.claytonhotelbelfast.com 
Maldron Hotel
Pull up a seat and enjoy an acoustic set by none other than Dave Taylor Revue
Friday 5.30-7.30pm
https://www.maldronhotelbelfastcity.com
Europa Hotel
The perfect Saturday and Sunday wind down, enjoy a late-afternoon of entertainment in the hotel lounge.
Saturday 3.30 – 6pm / Jazz Session
Sunday 3.30 – 6pm / The Speedy Mullan Blues Band
https://www.hastingshotels.com
FOOD & DRINK PROMOTIONS:
Deanes Deli /Vin Cafe
Round up your family and friends and head on over to Deanes for a delicious Bluesy Brunch for £9.95
AND to wash it down, try their Lynchburg lemonade cocktail for £8.95
Visit  www.michaeldeane.co.uk/deanes-deli-bistro-and-vin-cafe/ for more information or to book a dining experience.
Fitzwilliam Hotel, Belfast 
'Parisienne Walkways' – Inspired by the song of Belfast Blues Guitarist Gary Moore. This Cocktail has Slane Irish Whiskey, Grand Marnier, Merlot, Peychauds Bitters and a dash of Soda. This punchy concoction is perfect as an after dinner cocktail – priced at £9.
Visit https://www.fitzwilliamhotelbelfast.com for more information or to book a dining experience.
James Street Restaurant 
In the mood for a bluesy cocktail? Then head on over to James Street for a Mo Better Blues.
Think flavours of the Big Easy, a little tropical, a little tart – this easy drinking cocktail is the perfect accompaniment for the blues.
Ingredients include; Hennessy VS, Southern Comfort, Orange Juice, Egg white & Fresh Lemon. Priced at £8.95.
Visit www.jamesstandco.com/james-street for more information or to book a dining experience.
Starbucks (Great Victoria Street) 
Visit Starbucks on Great Victoria Street for a fantastic coffee tasting event – with a little Blues twist.
From Friday 28th-30th June, enjoy a hot or cold beverage that is sure to  give you the feels from the Deep South.
For more information on the Belfast City Blues Festival and to purchase tickets, visit:
Read More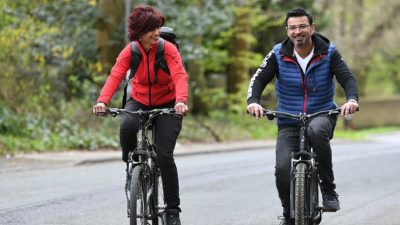 The BID publishes Cycling to Work video to mark start of Bike Week 2023
article / Featured News
5th June 2023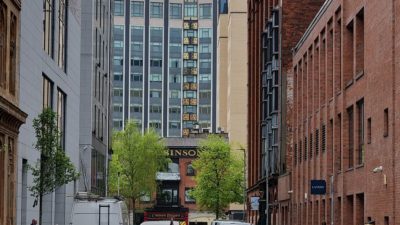 Consultation on commercial access strategy for the Blackstaff area is now open
article / Featured News
1st June 2023