First Aid training back by popular demand!
Featured News / 4th November 2022
This course is suitable for anyone renewing their First Aid, or training for the first time. On successful completion, delegates will be awarded an 'Emergency First Aid at Work' Level 3 certificate, which is valid for three years.
This one-day course is designed for low-risk environments such as offices, and therefore will not be appropriate for those working in other environments such as pubs, clubs or hotels. However, those who work in offices for a hospitality company are welcome to sign up. Delegates are required to be physically fit and have good English for the assessment.
Thu 24th & Fri 25th November, 9 AM – 4 PM
Clayton Hotel, 22-26 Ormeau Avenue
Tea & coffee to be served on arrival. A light lunch will also be provided.
The course is likely be popular, so book your place early by contacting charlotte@linenquarter.org. In the event that the training is oversubscribed, we will have a waiting list for training in the new year.
Course content:
Health and safety (first aid) regulations
Recording incidents and actions
Use of available equipment
Preventing cross-infection
Assessing casualty and circumstances – Primary Survey
Treatment of a casualty who is unconscious
Cardiopulmonary resuscitation
Wounds and bleeding
Seizure
Shock
Stroke
Angina and Heart attack
Choking
Minor injuries
Read More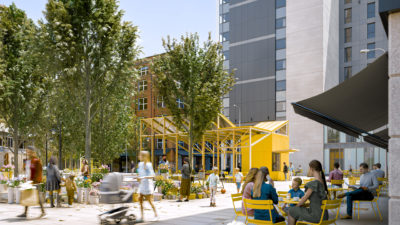 LINEN QUARTER BID LAUNCH VISION TO RE-IMAGINE BLACKSTAFF SQUARE
article / Featured News
23rd March 2023