Ewart Building Receives Gold Award for Cycling, With Support From LQ BID
Healthy & Sustainable / 18th September 2023
As our district welcomes its newest addition, we do so with much pride and excitement, knowing this building will stand as a beacon of sustainable architectural distinction. This Belfast giant is symbol of innovation and modernity, designed to blend seamlessly with the cityscape while pushing the boundaries of architectural excellence.
A proud resident of the Linen Quarter, The Ewart is one of our most iconic buildings. This historic building is more than a structure. It is a symbol of the past and the present. It symbolizes progress, growth, and a commitment to sustainability. It stands as a testament to our district's unwavering spirit and determination to keep reaching new heights.
The facility boasts 210,000 square feet of flexible, sustainable, dynamic office and retail space. This landmark development will create some of the most sophisticated and desirable office space in the city by combining a perfect setting with a design-driven architecture. The Ewart is the only location in the UK to receive a Gold Award from Cycling UK for its world-class cycling facilities.
As part of our sustainable travel initiative for the district, The Ewart has benefitted from a 75% subsidy from LQ BID for The Ewart accreditation cost. LQ BID levy payers are all eligible for this subsidized accreditation scheme, which we strongly encourage. Email Lawrence@linenquarter.org for more information. 
CBRE NI's Director of Property & Facilities Management, Eamon Butler, spoke with us about their accreditation journey.
"Throughout the design stage of The Ewart, a lot of thought and attention went into ensuring that we offered our staff, tenants and their employees the best possible experience and facilities. The Ewart provides 124 cycle space, lockers, drying closets and changing facilities. Working with Cycling UK we achieved a Gold Award for the facilities we offer. The process contains three stages, the self-assessment, site audit and award. The team at Cycling UK provided excellent guidance and advice throughout the application process. The questions force you to think about your cycling strategy and provisions helping you to enhance your offering. We were delighted with our Gold Award which is proudly displayed in our main reception area. We would encourage businesses to look at applying to Cycling UK for an assessment as it will help you enhance your own active travel plans and cycling provisions".
At Linen Quarter BID, we are dedicated to reimagining the way we move, ensuring that our journeys contribute to greener and healthier world. We aim to continue and support the nation's transition towards sustainable transport and active travel. In the former we represent the district in relation to the development of the Transport Hub and N-S Glider. In relation to active travel, we support pedestrian friendly spaces and new cycle lanes – resulting in a less congested, less noisy district, with clear air and a better place to live, work and relax.
We have commissioned Cycling UK to provide cycling friendly accreditation for employers, with regular confidence training, maintenance, security, and cycling events for employees and residents. Linen Quarter BID will fund 75% of the cost of employer's accreditation, which is a national scheme led by Cycling UK. 
If you want to find out more or start your accreditation journey, please reach out to our Healthy and Sustainable Manager, Lawrence Tingson ( Lawrence@linenquarter.org).
Read More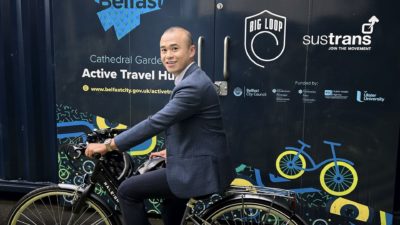 Pedalling Forward – 6 benefits of cycling you might not know about!
article / Featured News
18th September 2023