Linen Quarter Community Safety Xmas Update
Featured News / 2nd December 2022
LQ BID fund an enhanced police service for the district, which is part of the wider PSNI City Centre Team. If you want to contact the service to discuss ongoing issues of crime or anti-social behaviour, please e-mail PC Chris Wallace
chris.wallace@psni.police.uk
Recent Results
In the approach to the festive season, PSNI have been working with the Belfast Licensing Officer to engage with hospitality to promote safe socialising at Christmas. This ensures staff are trained to identify vulnerable people.
PSNI assisted in the removal of a tent, which was a source of ASB, from Linenhall street. With some patience and collaborative working the matter was resolved amicably and in a timely manner. The occupants of the tent found alternative accommodation and were referred to partner agencies.
Officers continued their engagement with LQ hotels to tackle vagrancy and obstructed exits. 16 interventions have been made with rough sleepers. Officers have been proactively engaging with rough sleepers and connecting them with support services.
Officers have liaised with LQ car parks to tackle drug use and paraphernalia, conducted 14 foot patrols through LQ multi storey carparks and stairwells to deter drug use and ASB.
There were several arrests in the district in relation to drugs and ASB. Offenders was arrests in connection with theft and to execute a bench warrant.
Officers also undertook Emergency Support Centre Training. The training involves all aspects of preparing for and dealing with emergencies that may requiring setting up Community support Centres or Casualty Bureaus.
New CCTV
Thanks to funding from LQ BID and Belfast One BID, a new digital CCTV camera has been installed in Donegall Square South, with excellent coverage of Bedford Street, Howard St, May Street and the Square. This connects directly to PSNI CCTV operators at Musgrave St. Although only operational for a couple of weeks, there have already been two arrests as a direct result of the new camera.
Partnership Working
In the lead up to Christmas, Central Neighbourhood Officers are working in partnership with LQ Streetbeat and our CCTV network, including a focus on disrupting the supply and possession of illegal drugs in our city.
On 16th Nov 2022 Central Neighbourhood Officers from Musgrave PSNI were conducting patrols of the NCP carpark on Bankmore Street when they came across three males taking what looked like heroin. Two of these males have made off from police on foot through the carpark and down several flights of stairs on to the Dublin Road, Belfast. Police have given chase and working in partnership with our Police CCTV operators have managed to stop and detain one of these males who had made off. With the assistance of Police CCTV operators Police were able to recover a bag containing many wraps of suspect heroin that this male had discarded. He was subsequently arrested for various offences including possession of a class A drug with intent to supply. Off the back of this arrest house searches were completed and a quantity of suspected cannabis was located.
StreetBeat have utilised the PSNI Drone Unit for the first time in the city centre to proactively detect crime. The drone gives officers the advantage of covering a larger area and those not easily viewed from street level, thus helping make our city centre safer.
Training and Crime Prevention
PSNI officers have developed a SafeShop "Train the Trainer" package. Safe Shop supports retailers in tackling crime, in particular shoplifting, and increasing levels of staff safety. Several Crime Prevention Officers and local NPT Officers have now been trained in how to deliver these sessions, so any LQ retailers can get in touch with PC Chris Wallace if they would like a session for their staff.
SafeShop provides:
Practical training for managers and sales staff working in retail outlets.
Information on the techniques that shoplifters use.
Clarity regarding the law, so that staff are informed of what they can do to keep people safe
Bespoke delivery in the retail premises, either before the shop opens or after it closes, so as not to interfere with trading hours.
Content around staff safety when travelling to and from work and when dealing with elevated levels of tension from the public.
The PSNI have comprehensive Christmas safety advice at the below link:
Reducing Offender Unit
The PSNI at Musgrave Street have a dedicated unit for the management of offenders. Offenders referred to the unit will be dealt with more robustly in all aspects of their criminal lives and are subject to more stringent bail conditions. Offenders will also be more closely monitored by probation when released from prison and/or living in the community.
Enhanced action includes weekly home visits and building a lifestyle picture of these offenders. The PSNI will challenge offenders on both their movements and associations as well as ensure a more rigorous control of any bail conditions that may be imposed on them by the courts. Interventions are built around three strands; investigative, partnership and rehabilitation. Each of these are in place to build up a complete picture around the nominal and their offending, seeking to identify the root cause of their actions and provide long term rehabilitation. The results of this approach have led to lower rates of re-offending and a more positive future for the individuals themselves.
Read More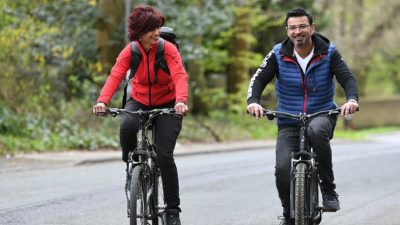 The BID publishes Cycling to Work video to mark start of Bike Week 2023
article / Featured News
5th June 2023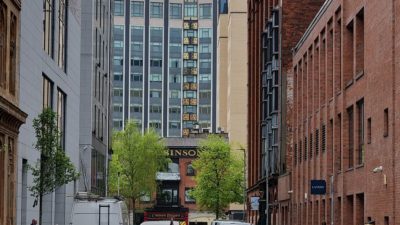 Consultation on commercial access strategy for the Blackstaff area is now open
article / Featured News
1st June 2023