Clean and Safe Week Launch 2023
LQ BID's 'Clean and Safe Week' officially kicks off on Monday 27th March and promises to be our most action-packed yet.
We are carrying out extensive deep cleaning across the district, with a particular focus on the Dublin Road and Great Victoria Street. Having recently extended our border to Equalities House, we are seeking to address decades of dereliction and neglect by investing in power-washing, graffiti removal and weeding. This paves the way for our long-term regeneration plans for the area.
Secondly, the BID is investing in additional resource to 'spring clean' our hotels and high foot-fall areas in the run-up to Easter. Our team will be in the district every day throughout Clean and Safe Week, power-washing outside hotels and responding to member requests.
The BID is also delighted to partner with Belfast City Council who will be carrying out additional cleaning around Blackstaff Square.
If you have any requests please get in touch with charlotte@linenquarter.org and be sure to follow along on Twitter to see what the Clean Team have been up to.
Read More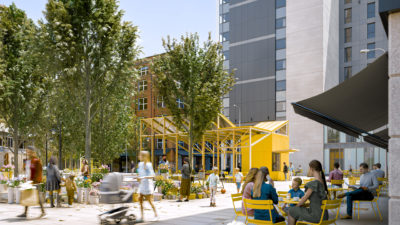 LINEN QUARTER BID LAUNCH VISION TO RE-IMAGINE BLACKSTAFF SQUARE
article / Featured News
23rd March 2023