LQ BID lobbies for increased Coach Parking in Belfast City Centre
Featured News / 26th July 2023
Linen Quarter BID and our hotelier members are increasingly concerned at the lack of an overnight Coach Parking facility in Belfast City Centre, considering the growing number of tourists visiting the city as part of multi-day coach tours.
On behalf of our levy payers, we recently wrote to the Chief Executive of Belfast City Council and the Permanent Secretaries of Department for Infrastructure and  Department for Communities, asking them to take forward a study to address this issue urgently.
You can see the full letter, co-penned by Chris McCracken (LQ BID MD) and Sarah Cull (Chair) below.
Sign up to our newsletter to stay up to date on how this issue progresses.
Re: Linen Quarter Access Study  
Last year, Linen Quarter BID initiated an access study to address persistent concerns from hotels in relation to the lack of designated parking for deliveries and customer drop-off/pick-up. The study collated information from hotel operators located in the Linen Quarter. LQ BID have written to DFI separately with a request that these proposals are considered. 
However, our conversations also highlighted the absence of dedicated overnight coach parking as a major issue impacting hotel operations. LQ BID are therefore jointly writing to the Belfast City Council, the Department for Communities, and the Department for Infrastructure, to request that this significant gap is assessed in more detail, with a view to developing a new coach parking facility for the city. 
The growing importance of the hotel sector to our capital city is beyond doubt. In the last five years £180m has been invested into hotels and venues in the Linen Quarter alone. Hotels based within the Linen Quarter BID area represent 10.3% of the total BID member's property NAV (net asset value) generating an estimated £2.46m in annual non-domestic rates. Looking beyond the Linen Quarter, the Belfast City Council area is home to 36 hotels that host close to 4600 hotel rooms, which represent almost half of Northern Ireland's stock.  
When Belfast's share of hotel rooms is applied to the Northern Ireland hotel sector's GVA, the Belfast hotel sector generates around £345m direct GVA, while sustaining around 4,600 jobs with almost £120m in direct wages. Taking into consideration multiplier effects such as purchase of goods and services as well as wages spent in the local economy, the Belfast hotel sector generates another £400m in GVA and sustains an additional 2300 jobs. 
The private coach travel and tourism industry makes an additional contribution to the wider economy by boosting business and customer numbers, not only for hotels but also for tourist attractions, hospitality venues and local hidden gems etc. The local coach tourism industry alone carried almost 7 million tourists and generated £160m in income in the year 2018/2019. This includes overseas and domestic holiday makers, day trippers, cruise passengers and conference and business tourists.  
Linen Quarter BID estimates that the value of coach tourism to Belfast hotels, based on estimates provided by three Linen Quarter venues, is equivalent to approximately 16% of the sector's total capacity. When extrapolated to the Belfast hotel sector's total direct GVA,  £74m of its direct contribution to the Belfast economy could be attributed to coach tourism. 
Unfortunately, there has not been a corresponding investment in coach parking infrastructure to facilitate the greatly expanded hotel sector.  Hotels have historically been underrated in terms of its contribution to the economy, but the long term growth in tourism has emphasised the importance of the sector to maintaining Belfast's economic performance.  
A dedicated large-scale parking facility on the edge of city centre would help to secure the economic value of coach tourism to the city, while also helping to attract additional coach tourism to Belfast. From a traffic management perspective, it would minimise coach operators driving around the city centre looking for a parking space, avoiding unnecessary congestion and associated air pollution. Reducing this type of traffic would support the Council's aspirations to improve air quality in the city centre. 
There are more than 200 local coach companies who regularly frequent the city centre. It is anticipated that an overnight coach parking facility would be cost neutral to the Council in the longer term, as coach operators are likely to be willing to pay a parking fee for a secure facility. Secure parking will also reduce criminal damage, as coaches parked on streets or roadways are vulnerable to being vandalised.  
We are aware the provision of an overnight coach parking facility was previously appraised by the City Council, but unfortunately a suitable facility has never materialised. There is compelling evidence for the benefits that secure coach parking would bring, and we would request that a joint Council-DfC-DFI study is taken forward to re-consider the issue. 
Yours sincerely,  
 

 

 

 Christopher McCracken  

Managing Director, Linen Quarter BID  

 

 

 

Sarah Cull  

Chair, Linen Quarter BID  

 
Read More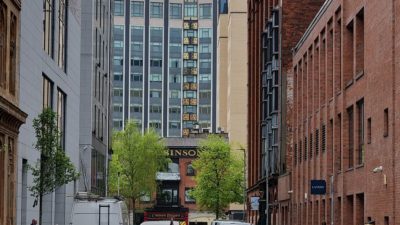 LQ BID submits proposals for reconfiguration of local road network
article / Featured News
12th October 2023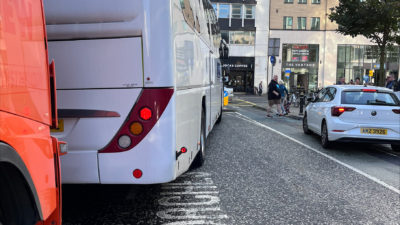 LQ BID writes to the Department for Infrastructure in relation to Glengall Street congestion issues
article / Featured News
3rd October 2023