Belfast Central Mission Christmas Toy Appeal
Featured News / 24th October 2022
This Christmas Linen Quarter BID is supporting, and helping to promote, Belfast Central Mission's Toy Appeal. BCM started its outreach in 1889, along Belfast's inner-city streets, but is now working throughout Northern Ireland in nearly twenty social care and housing-related projects. The Toy Appeal has been running for several decades out of the organisation's Grosvenor Hall headquarters on Glengall Street. In 2021, almost 4,000 toy parcels were distributed to children across the city and further afield, and they need your help to continue this rewarding work.
The current cost of living crisis will be adversely affecting thousands of families and BCM wants to ensure that as many children and young people have gifts to open on Christmas Day. They cannot do this alone and are inviting organisation across the Linen Quarter to support this vital initiative. There are a number of ways in which support can be shown:
Encourage your staff team to consider purchasing a small, single gift for a child or young person aged 0-17 to be distributed ahead of Christmas by BCM.
Encourage your staff team to donate to the Appeal's online fundraising portal which would allow the Appeal to purchase toys/gifts where there may be a shortfall. Donate here
More formal corporate partnership/support
BCM is planning to launch its 2022 Toy Appeal in October with an event held in a Linen Quarter venue. Should you be interested in supporting the Appeal for this year, you would of course be more than welcome to attend the event and be acknowledged within the official messaging.
To support your involvement, BCM can provide promotional material, whether for use in your lobby/reception areas, throughout your building or that can be distributed electronically for ease.
We appreciate that you may already have commitments to similar schemes run by other community, voluntary and faith-based agencies. However, if not, I hope you can appreciate this is a hugely worthwhile cause that is taking place right on our doorsteps within the Linen Quarter yet has an effect felt throughout the whole country.
If you would like to support this worthwhile initiative, or if you require any further information, please contact Chris Pollock, the BCM communications manager, via e-mail: cpollock@belfastcentralmission.org
Read More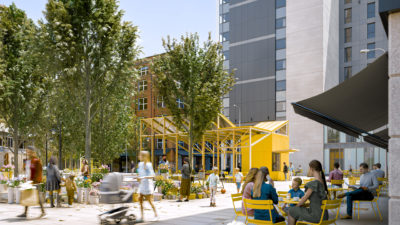 LINEN QUARTER BID LAUNCH VISION TO RE-IMAGINE BLACKSTAFF SQUARE
article / Featured News
23rd March 2023