Last Wednesday afternoon, Linen Quarter BID welcomed members along to the Grand Opera House for our AGM & Term Two Consultation Networking Event, where the BID announced a new five-year business plan, part of which reveals its aim to extend its services to include The Gasworks and Shaftsbury Square areas.
Summary of AGM
Guests were welcomed by host, Clodagh Rice, before LQ BID's Chair, Blair Mayne spoke to attendees, highlighting the work that has been ongoing this past year, notable projects that have been completed, and plans for Term Two, as we approach re-ballot at the end of 2022 / beginning of 2023.
Our Chair also presented annual accounts which were approved by the Board. Blair thanked current Board members for their contribution and dedication, and formally announced our two new Board members:​
Louise Doyle (Translink)​
Fearghal McKinney (British Heart Foundation)
Plans for 2023
LQ BID's Managing Director, Chris McCracken spoke to attendees and explained how the District and surrounding areas are set to benefit from £1 billion investment over the next ten years, with the Belfast Grand Central Station, Weaver's Cross and the new BBC Building all in the pipeline for re-development.
Some of the most significant plans for LQ include:
Transport Hub

​

Weaver's Cross

​

BBC Extension

​

Kainos

 HQ

​

Residential – Gratton

​

Students – Hope Street

​

North-South Glider

​

Streets Ahead V

​

Gasworks walk / cycle bridge

​

C

ycling

 Infrastructure

​

Traffic reconfiguration

​

Bolder Vision / Civic Spine
Key Proposals
LQ BID's MD set out the key proposals for the next 6 months, highlighting the intention to extend the size of the current BID.
Main points of interest included:
BID proposal is a statutory process​
Intention to extend to Gasworks & Shaftesbury Square​
Minimum NAV £20,000​
Levy rate 1.5%​
Registered charities pay 50%​
Income of £3.5m over 5 years​
Anticipated grant funding £500k​
Business Plan process June – October​
BID Ballot of levy payers: Jan 23
Read More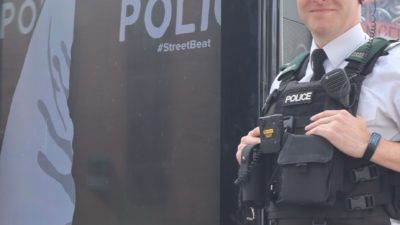 Linen Quarter Community Safety Update September and October 2022
article / Featured News
25th October 2022