Pedalling Forward – 6 benefits of cycling you might not know about!
Featured News / 18th September 2023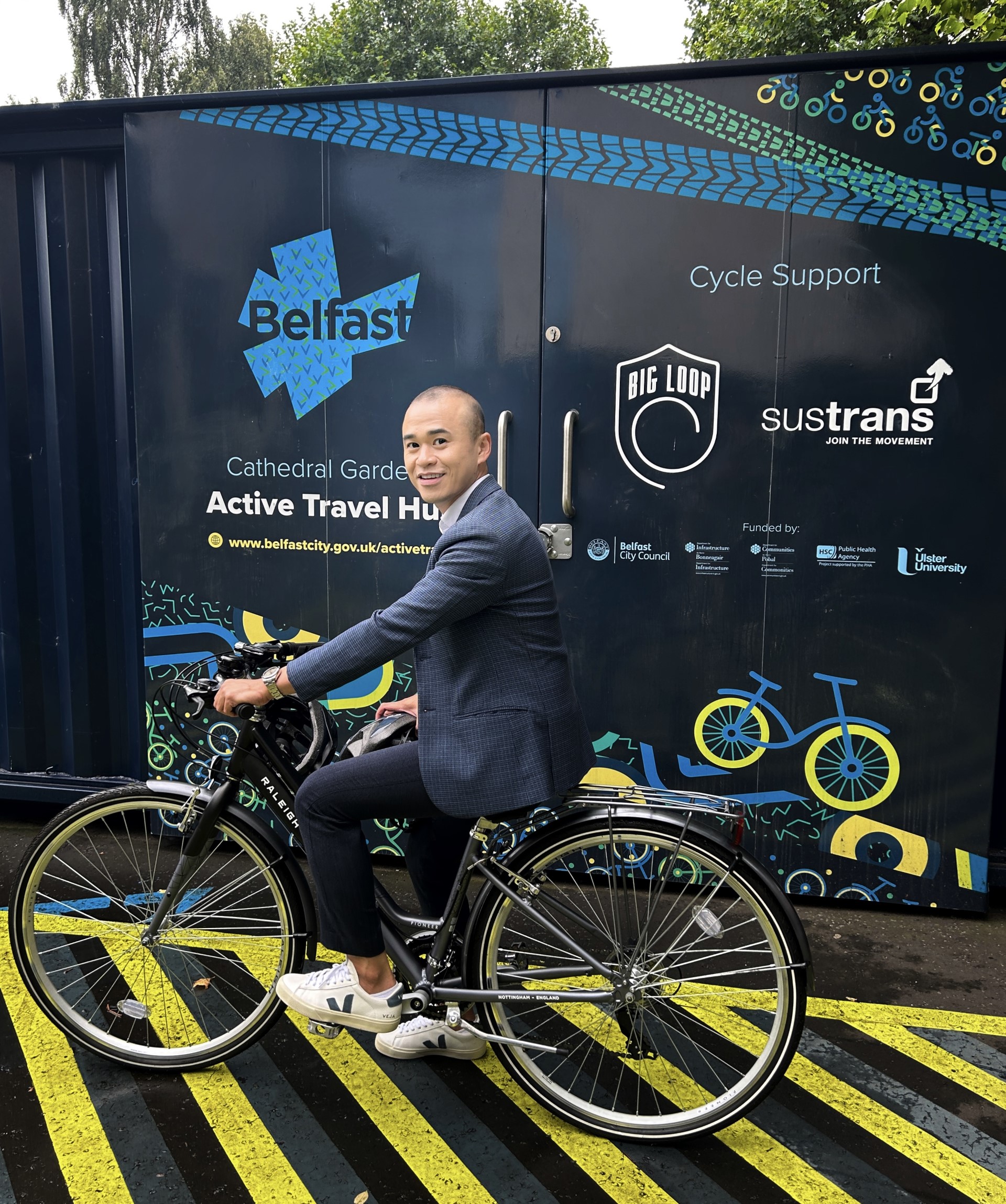 Climate change, traffic congestion, and the rising cost of living. We have endless reasons to get you on your bike and start pedalling!
Times are changing. Our mobility choices need to be smarter. It's time to change the perception that bike commuters are low-income. It is NOT! Social status has no bearing on cycling and there's more to it than personal savings. Moreover, the benefit of cycling goes beyond health and fighting climate change. Have we piqued your interest? Let's look at the lesser-known benefits of cycling.
Did you know that cycling is great for the economy? There's more to riding that bike than just saving lunch money. Sustrans' Cycling Index shows £6.5 billion in economic benefits in the UK. The numbers are impressive, but if that did not convince you, let's keep going!
Cost Saving:
The average car running costs in the UK is £3406.80 per year. So long fuel cost, parking, and insurance fees. Owning a bike will only cost you £30 – £160 for maintenance per year.
Employee Retention and Wellbeing:
Millennials (born after 1983) will make up 75% of the workforce by 2025. This group want to work for employers who reflect their values and do more for the environment. Promoting active travel is a good way to demonstrate CSR. Employers who are cycling friendly show they care, and in return, job satisfaction and loyalty skyrocket.
Boosting Local Economy:
Pedestrians and cyclists drive businesses, not cars. Cycling contributes to local economies. It creates job as well. With cycle parking, retail spend is 5x higher than car parking. Cycling creates a slower pace of travel. It gives us more time to enjoy the beauty of the area and support local businesses while you're at it.
Healthcare Savings:
Cycling encourages an active lifestyle. The result? Lower healthcare cost. In 2015, the cycling's health benefit in the UK was at £1,056,598,000. The NHS will THANK YOU!
Tourism:
Cycling connects fascinating historical, cultural, and natural sites. In 2015, cycling tourism contributed £520 million to UK tourism. With better infrastructure, Northern Ireland could capitalise on more of this spend.
Practical Urban Planning:
Every £1 invested in walking and cycling returns £5-6 on average. For comparison, the return from high-speed rail was about £2.30. Bike-friendly structures are cheaper than constructing new roads and it consumes a lot less space. Meaning more places for people.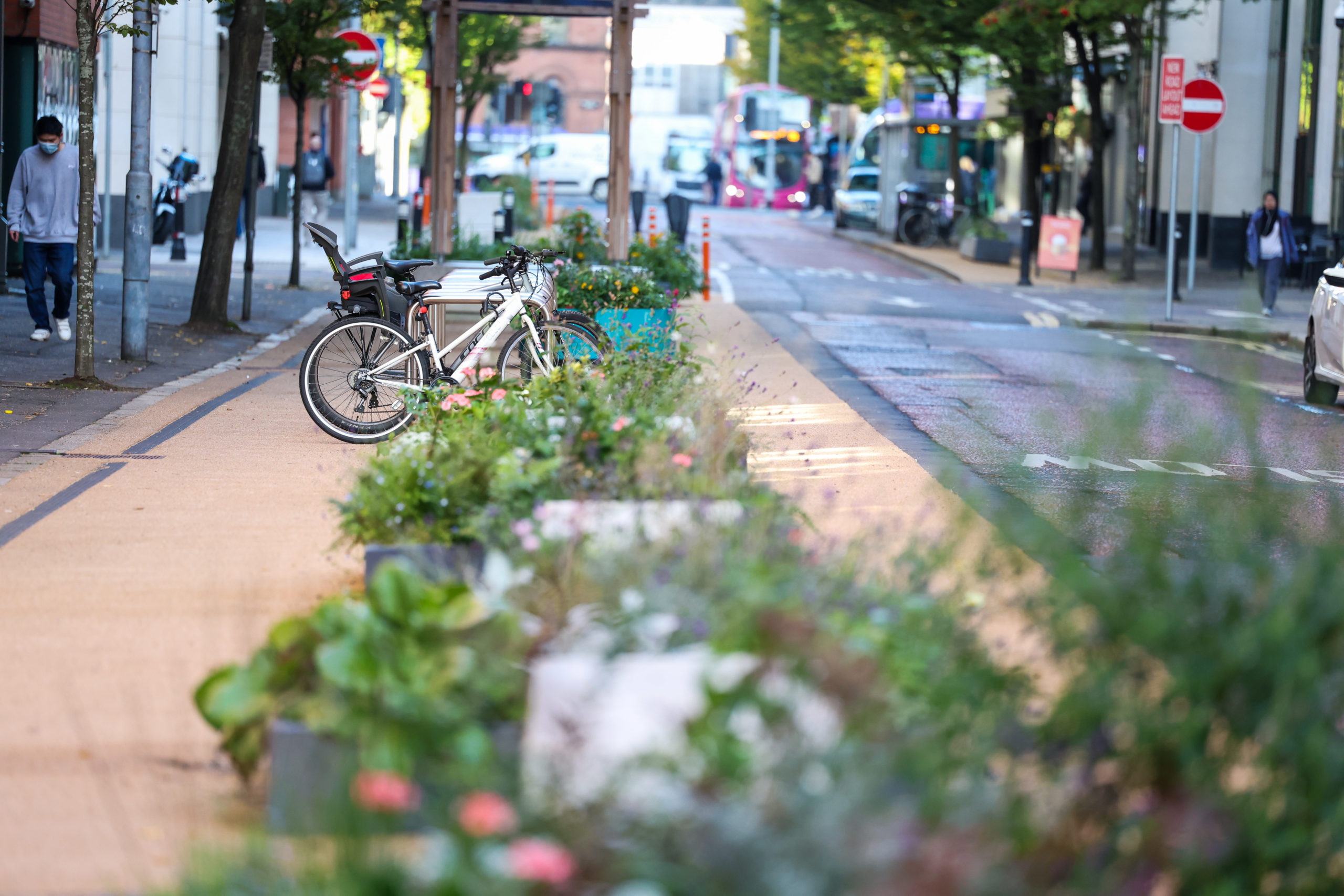 Riding the Future in the Linen Quarter:
Did you know the Linen Quarter was at the centre of the first cycling revolution in the 19th century? The pneumatic cycling tyre was invented on May Street in 1888 by John Dunlop. The first race to use the tyres took place at Queen's College, which popularised the invention and helped create a global "bicycle boom".
Yet despite its long history, it's no surprise that cycling is promoted as a "new" mobility strategy. It contributes to health and wellbeing. It addresses ecological issues including pollution. Smart cities across the world have expanded and improved their cycling infrastructure.
Healthy and Sustainable. That is our vision for the Linen Quarter. We're shaping a district that values people, environment, and economy, leaving no one behind. Creating a cycling culture is only one part of our holistic vision. So, whether you are a daily commuter or a weekend explorer, we want you to be part of our journey. Let us pedal forward to a more connected community. Let us weave a cycling culture into the fabric of our urban spaces. With the right mix of attitude change and investment. We can make cycling friendly environments the new norm.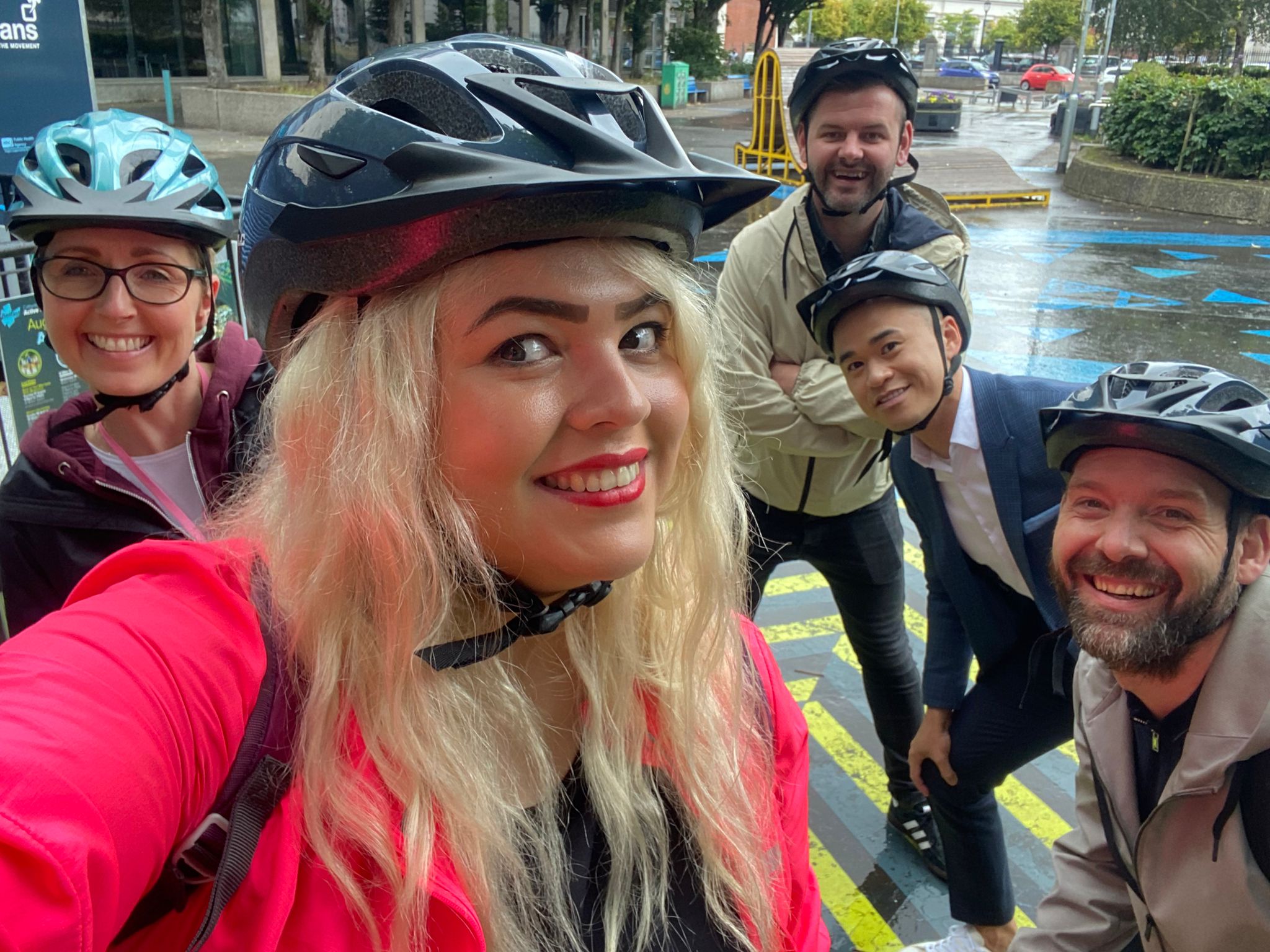 Creating a Sustainable & Cycle Friendly District: How We Can Help?
Have we convinced you yet? There's more! We've told you about our bold vision. One way of doing that is by providing support to our levy payers. This includes subsidizing the Cycling UK employer's accreditation fee by 75%. We then back this up with free bike maintenance, security marking and supporting materials.
The future of inclusive cities starts with a sustainable district. To reach our destination, we all should do our part. We can change the Linen Quarter into a district where cycling isn't just an option, but a lifestyle. Come join us as we embrace cycling as a force for urban transformation.
Do you want to start your accreditation journey?  Get in touch with our Healthy and Sustainable Manager. Lawrence Tingson (Lawrence@linenquarter.org)
Oh, one last thing! Once you get on the bike, remember to cycle safely, keep an eye out on busy roads, and use proper lights and reflective gear on darker evenings. Last, but not least, be proud of the shift you embraced!
Read More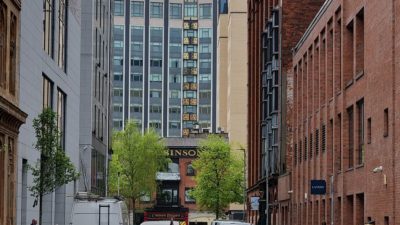 LQ BID submits proposals for reconfiguration of local road network
article / Featured News
12th October 2023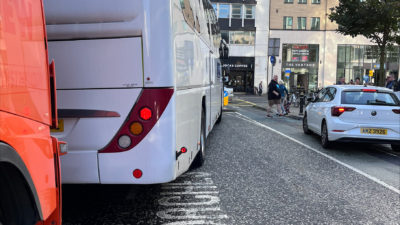 LQ BID writes to the Department for Infrastructure in relation to Glengall Street congestion issues
article / Featured News
3rd October 2023